You've seen this word floating around and you're wondering… What is Morpheus8 treatment?
Today, we dive into what it is and how it can benefit you.
What is Morpheus8 Treatment?
Morpheus8 is a skincare treatment that combines the use of RF (radio frequency) and microneedling (often referred to as skin needling).
The fancy name for it is a "subdermal adipose remodelling device" or SARD. This essentially means it works on the layers under your skin (subdermal) and on the fat (adipose) to give it a new shape (bio-remodelling).
What Does Morpheus8 Treatment Help With?
Morpheus 8 treatment uses RF microneedling (radiofrequency energy) to work on things such as skin laxity, collagen and elastin production, acne scars, poor skin texture, body contouring, skin tightening and reducing the natural ageing process.
How Does Morpheus8 Treatment Actually Work?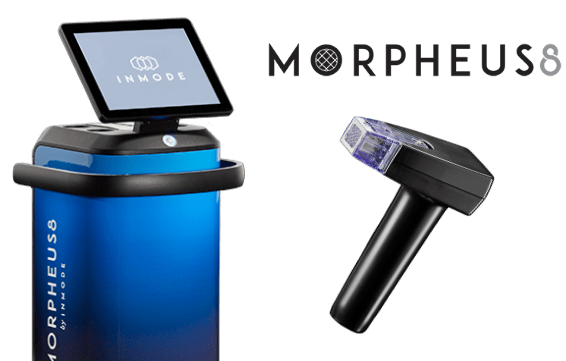 Morpheus8 is a minimally invasive procedure that works by using tiny needles to puncture the skin. On the surface, this sounds really scary but in reality, the needles are so small that most people skip the use of a topical numbing cream.
The purpose of these needles is to create micro-damage to the skin.
When we have extremely small damage to the skin, the body goes into healing mode and starts working on repairing itself with new collagen production.
The next ingredient in this treatment is the use of RF (radio-frequency) as a type of energy.
RF is emitted into the subdermal fatty tissue (deeper layers) and then creates heat, this heat also will stimulate collagen production but the true magic comes from the skin-tightening effects this heat creates.
Tightening loose skin is very important and is often the main thing you need to maintain a youthful appearance.
How Many Treatments Will I Need?
It is recommended to have multiple treatments (at least 3-4 treatments) with a 4-6 week break between treatments.
Microneedling (skin needling) treatment needs a 4-6 week downtime so that the skin can regenerate and grow back better. If you get follow-up treatment too soon it may actually slow down your results.
Microneedling treatments will bring great forever lasting results on skin concerns such as acne scarring but for anti-aging, you should expect to repeat the process on the treatment area multiple times a year to maintain or progress your results.
How Much Does Morpheus8 Treatment Cost in Australia?

Morpheus8 ranges from $500-$1500 depending on the clinic you choose and the area of the face or body you are getting treated.
For full pricing details check out our Australian Morpheus8 Locations Page.
Is It Suitable For All Skin Types?
Yes, Morpheus 8 is suitable for all skin types and is a minimally invasive procedure with next to zero patient downtime.
You may experience some mild redness and tenderness after your first treatment, but this will be gone within 24 hours.
Summary
Morpheus8 is a scientifically proven method that is suitable for anti-aging (deep lines), acne scars (acne scarring), excess fat (remodel subdermal fatty tissue), mild sagging, and improving skin tones (skin complexion).
It has a low risk for post-inflammatory hyperpigmentation (PIH) because the radiofrequency energy does not target melanin. After treatment, you should avoid direct sun exposure for 48-72 hours to ensure you get the best results in the treatment area.
To find Morpheus8 locations near you, check out our Locations Page.